Basement flooding is a common problem that many homeowners face. The main reason behind flooding in basements is improper drainage systems.
To prevent flooding, you need to ensure that your basement drains efficiently and adequately. If not, it will lead to problems like water pooling in the basement or, even worse, water damage. The ideal way to ensure proper drainage is by installing a sump pump.
A sump pump is an automatic device used for draining water from the basement and preventing it from flowing into the house. If the existing drain lines fail to work, it works as a backup system. This prevents the basement floor from getting wet.
This is particularly useful for older homes with basements. In such houses, a lot of water tends to accumulate because of poor drainage systems.
If you are looking for an efficient solution for your basement flooding issue, you should consider installing a sump pump.

How Do Sump Pumps Work?
When there is heavy rainfall or any leak in the roof of your house, water can collect in the basement, which might then lead to a flood in the basement. It would be wise to have a sump pump to keep your basement dry and avoid such a scenario.
If not removed properly, this water can cause severe damage to your property.
It can cause humidity, moisture, mildew, and mold inside your home.
It can cause cracks to develop in the foundation due to excess weight on it, which can also create bowed walls and significantly reduce the life of your house.
The function of a sump pump is to drain out the water that accumulates in the basement.
These pumps usually have a float switch that detects if the water reaches a certain level in the sump pump pit.
When it does so, the sump pump starts pumping out the water. It has impellers that create suction power that pulls the water towards the drain pipe.
The drain pipe is connected to a sump basin filled with water. Water flows down the discharge pipe into the nearby drain system automatically.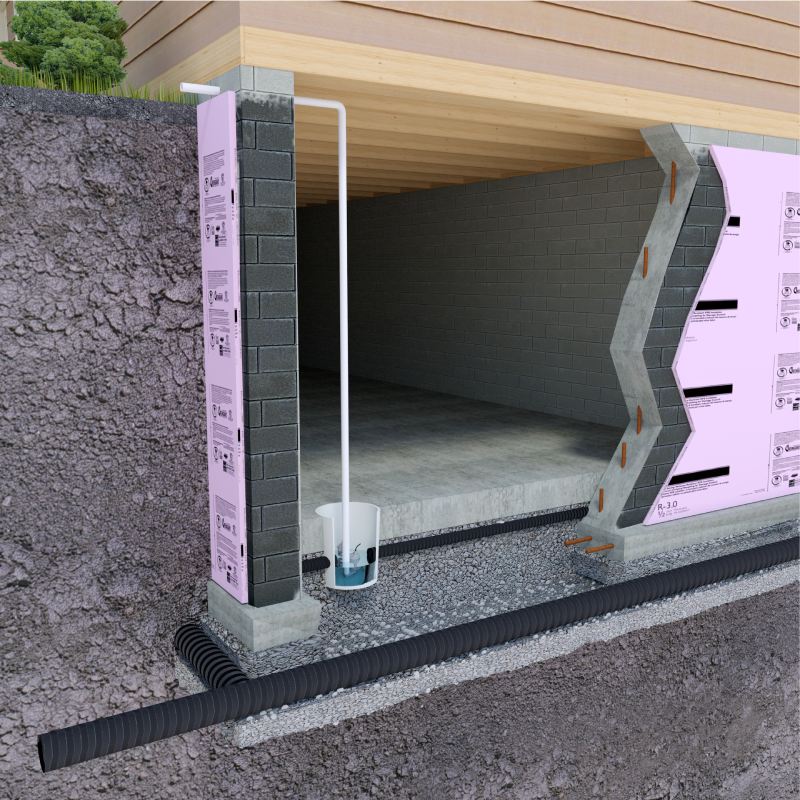 This prevents groundwater from rising above the basement floor. A sump pump can be viewed as an added layer of flood insurance.
You don't have to worry about water logging anymore if you have a sump pump system. All you need to do is install one in your home and fix the other issues that result from excess water accumulation, such as humidity, mold, and mildew.
How Do I Know If I Need A Sump Pump?
The first step in determining whether your house needs a sump pump is discovering whether your basement is prone to accumulating water.
You are probably safe if your basement is always dry. However, you should probably invest in a sump pump if moisture is present at times.
Here are some other factors which indicate whether you need to add a sump pump.
You should install a sump pump in your home:
If the rainfall pattern in your area is unpredictable.
If you live in a flood-prone area.
If you live in a low-lying area.
If your place is surrounded by poor draining soil.
If your basement has flooded before.
If you are renovating your basement.
If you have an aging pump.
A basement sump pump might be one of the most critical components of your home, and it will keep your home safe from several problems. If you have any of these issues, your best bet for making your home safe is to install a sump pump.
You should purchase a sump pump today and keep your house safe. Call us at (865) 410-1077, and we will help you install a sump pump in your home.
Types of Sump Pump Systems
Having a sump pump is essential to protecting your property against floods.
There are two types of sump pumps – Pedestal and Submersible.
Pedestal Pumps
A pedestal pump is installed above ground. The electric motor sits atop the pedestal.
Pedestal sump pumps usually last longer since they are not submerged in water. Furthermore, they are affordable and not likely to wear out. They are easier to inspect and clean as they are easier to access.
A pedestal pump is less powerful than a submersible pump, which means it takes longer for water to drain away from your home. This increases your risk of water damage. Pedestal pumps can also be louder than submersible pumps.
Submersible Pumps
A submersible pump is set below ground level in a sump pit. The submersible pump is completely submerged in water, saving space in your basement or crawl space.
They are more powerful and quieter than pedestal pumps, but they can be more challenging to inspect and clean.
They can pump water faster than pedestal pumps as well. Submersible pumps are very reliable sump pumps and an excellent option for most homes.
A pump with a cast iron core will provide superior performance and longevity. To get more information about our sump pump systems, contact us today!
Benefits Of Installing A Sump Pump
A sump pump is a handy addition to your home because it can save you thousands of dollars in water damage restoration costs. It is one of the most effective ways of avoiding unnecessary expenses in the future. Installing it now will pay off later.
There are many benefits of sump pump installation in your basement. Here are some of them:
Prevents basement flooding.
Keeps ground dry after heavy rainfall.
Prevents cracks in the foundation.
Protects against sewage issues.
Reduces risk of mold & mildew growth.
Maintains the drainage system.
Prevents corrosion of metal appliances.
Safeguards wall coverings & paint.
Lowers homeowners insurance costs.
Is a Sump Pump Essential to Basement Waterproofing?
A sump pump is an integral part of waterproofing your basement.
Whether your basement is leaking from a wall crack or through the floor, having a sump pump in place is a smart way of avoiding more damage.
Installing a primary sump pump is the best way to waterproof your wet basement. Waterproofing your basement can mitigate bowed walls, mold growth, foundation cracks, and many other issues.
The cost of maintaining a properly working sump pump is much lower than repairing damaged areas. So, why not install a sump pump as soon as possible? You will never regret doing it.
DryTech has the experience and expertise to add basement sump pumps and provide a complete waterproofing solution to your property. We use high-quality products to ensure that your basement remains dry and safe no matter how hard the rain falls.
Get your FREE home inspection! Call us at (865) 410-1077.
Preventive Measures For Flooding House Basement
Flooding is one of the most frustrating problems to have in your home. It can cause significant damage to your property, compromising its structural integrity.
To avoid, keep the following tips in mind:
Make sure the drainage system is working correctly.
Fix any cracks in your home to prevent water from entering the walls.
If your landscaping has drainage issues, re-landscape your yard.
Make sure you keep your gutters clear of debris to allow the free flow of rainwater.
If you live in a flood-prone area, elevate your home.
Don't let the water accumulate in your basement for too long. It will only damage more of your property.

Get Free Home Inspection
If you have decided to get a sump pump installed in your home, then call us at (865) 410-1077. We will schedule a visit to your location and give you a free estimate for installing your brand-new sump pump.
Our waterproofing contractors are highly experienced, and they know how to handle complex plumbing systems. They will take the installation process professionally and efficiently.
We also offer inspections for your existing pump. We will check everything from the electrical connections to the safety features. We will make sure that your pump works correctly and is ready to perform its job. So call us today and get started!
If you want to avoid costly repairs in the future, contact us now! Speak with a waterproofing contractor in Knoxville, TN, and see how you can minimize the risk of damage to your home.