Proven encapsulated crawl space solutions in Knoxville and the surrounding areas
DryTech can transform your musty crawl space into a dry, energy-efficient, and healthy environment for you and your family. No matter what kind of crawl space you have, DryTech will install an effective encapsulation system to protect your home from moisture intrusion. We are an experienced team of experts who have been providing crawl space encapsulation solutions to homeowners throughout the Knoxville area for over 15 years.
Don't let crawl space problems ruin your home! Here at DryTech, our encapsulation professionals can protect your home from moisture and mold problems. Call us today at (865) 410-1077 for a free estimate.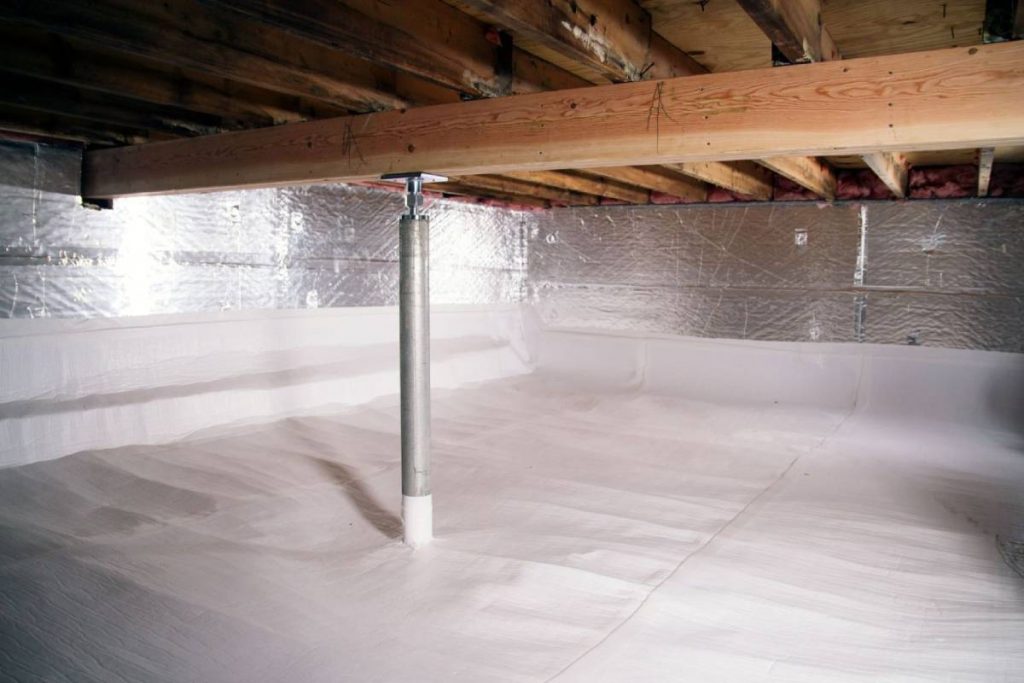 Encapsulating your crawl space is a preventive maintenance measure that helps keep the air inside your house clean, dry, and free from musty odors. Using our crawl space encapsulation solution, you can reap the benefits without tearing out any interior walls. When we take care of your crawl space and its moisture problems, you can be assured that your home's indoor climate will stay comfortable even during the warmer months that have high relative humidity.
What Is Crawl Space Encapsulation?
Crawl space encapsulation is the addition of a heavy-duty moisture barrier to the interior or exterior of a crawl space. The primary purpose of this extra layer of protection is to prevent any moisture from entering through cracks around the outside of the foundation walls. Added insulation between the exterior wall and floor joists prevents heat loss when the warm air rises.
Should I Encapsulate My Crawl Space?
In most cases, it is recommended that homeowners encapsulate their crawl spaces if they have a problem with excess moisture to prevent mold, wood rot, and structural damage. You may also benefit from encapsulation when:
Your home has high indoor humidity.
You live in an area with a high chance of flooding.
You have mildew and mold growth in the crawl space.
There are no vents near the crawl space.
These conditions can indicate that your crawl space needs to be sealed off with a proper encapsulation system.
Crawl space encapsulation can benefit your home in many ways, including:
Greater energy efficiency
Fewer allergy problems
Fewer pest problems
More comfortable living conditions
Extra storage space
DryTech's WhiteCap Encapsulation Systems – The Premier Solution
WhiteCap is one of the most popular encapsulation systems used by professional contractors because of its durability, effectiveness, affordability, and ease of installation. The WhiteCap system's components are manufactured to the highest standards to give you a dry, healthy, and energy-efficient crawl space!
From WhiteCap crawl space liners to dehumidifiers, we offer a complete system that protects your crawl space against moisture on a long-term basis. WhiteCap is designed to address crawl space problems more permanently so your crawl space will no longer be a concern once it is completed.
Our 4-Step WhiteCap Encapsulation System
DryTech's WhiteCap crawl space encapsulation system addresses all types of crawl space threats and issues, including existing moisture, sitting water, outside air, mold, and pest infestations. Here are the 4 steps to the WhiteCap encapsulation system:
Cleanup: Cleaning up debris, leaves, garbage, etc. from the space; leveling soil; and removing any mold spores or pests from your crawl space before installing our system.
Drainage System: We include perforated drainage pipes paired with one of our custom-designed sump pump systems for easy water removal. Drainage matting is put in at this point.
Apply Reinforced Liners: Using WhiteCap reinforced vapor barrier liners, we seal your crawl space's perimeter, including crawl space doors and outside vents.
Dehumidifier: With the help of our high-performance dehumidifiers to remove excess moisture buildup and reduce humidity, you can make your home more comfortable and keep it dry.
For more information about how the DryTech's WhiteCap system can benefit your home, call us at (865) 410-1077.